Typing Pal's annual update was rolled out June 26, 2023 (read Druide informatique's press release) in anticipation of the next school year. You should check it out right away, if only to play the brand-new educational game! Read on to learn more about the most notable improvements made to Typing Pal's School Edition as well as the benefits they offer you and your students.
Magical Duel: Save the Realm by Typing Spells
The fantasy world of Magical Duel is sure to enchant your students. Through their character, they'll take on the subjects of a magical realm to free them from the curse that has befallen them.
Spells must be typed out correctly to cast them at an opponent.
Every time a student wins a round, they're given the option to level up their character's powers. This new game is all about strategic choices, from the spells cast while dueling to the powers built up on the path to victory. No two games are the same!
Fun Times Typing Phrases
With the launch of Magical Duel, Typing Pal's educational games now incorporate three skills developed progressively through touch typing training: hitting single characters in Cosmik Ball, entering character sequences or words in Monkeys in Jeopardy, and typing word sequences and phrases in Magical Duel.
Five New Badges
Students can earn new badges by winning rounds 5, 10, 15 and 20 of the game. The fifth badge can be unlocked by completing a secret challenge. It is a mystery badge, after all!
---
New Interface Features
Thanks to feedback from those who use Typing Pal in the classroom, several improvements have been made to the student and management interfaces.
Personal Rankings for Each Activity
When an activity is completed, a screen is displayed showing the accuracy and speed achieved, the number of errors made and any personal bests recorded. A new link has been added to this screen to show all results for the activity in question.

The link opens the Activity Log and applies a filter automatically, allowing students to track their progress. These personal rankings are particularly interesting for learners who've completed an exercise once with basic objectives, then gone back to try again with more ambitious goals.
Date Filter
The student's Activity Log also features a new filter for viewing activities carried out over a particular period. Just select a date range from the calendar menu.
It can provide a more recent picture of a student's progress, for example. Say a student has been touch typing for several months: the averages displayed are calculated for their entire training period. However, it's likely their latest results are much better than those they achieved when they first started out. Using the filter to display only activities completed recently will also update the averages displayed for speed and accuracy—higher scores are much more encouraging!

The same filter is featured in the Student Log accessible through the management interface.
Recommended Targets
No need to resort to guesswork when the time comes to set accuracy and speed targets for your group! Simply refer to the new reference charts in the interface to make an informed choice. Click on a recommended value to set your target according to the intended age group and skill level. You can also enter targets manually.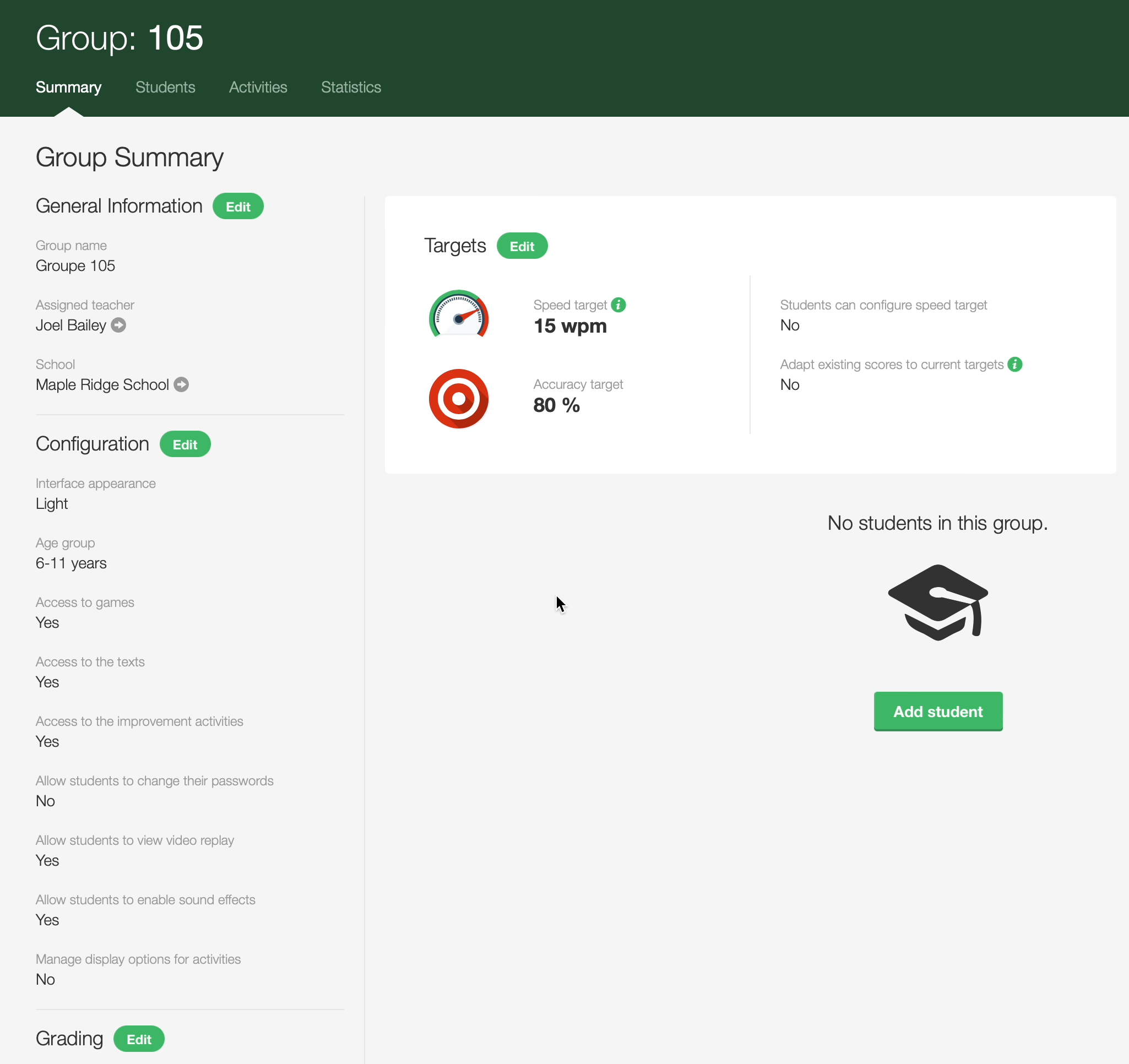 ---
New Management Features
New settings have been implemented this year to make it easier to manage subscriptions and accounts.
Teacher Account Management
Teacher account permissions are now configurable to grant or deny privileges to edit student accounts, groups and text collections. Super administrators and school administrators can make changes as needed from the Teacher privileges panel in the School Summary.
Management settings are also changing to allow multiple teacher accounts to be assigned to the same group at the start of the new school year. Resource teachers and other education specialists will be able to access the accounts of students with special needs, no matter their group.
Data Retention
Super administrators can now specify the amount of time after which accounts will be automatically deleted following subscription expiry. This data retention setting makes it easier to comply with institutional data management policies, for example. It can be accessed through the Data management panel in the Subscription Summary.
Last but not least, we'd like to thank everyone who provided feedback and ideas for development. Feel free to write to us with comments on the new features and suggestions for the next round of improvements.
Have fun exploring this latest release!